Black Babies Who Have Been Adopted
All of these newly adopted babies have found loving homes.
We're often asked, "Do you have black babies for adoption?" The answer is that we have beautiful babies from a variety of ethnicities.
African American Adoptions Online, in conjunction with Lifetime Adoption, works with birth mothers seeking adoptive families like yours! Take the first step and request information today. You can also reach us at (727) 493-0933 or request adoption information.
Three Generations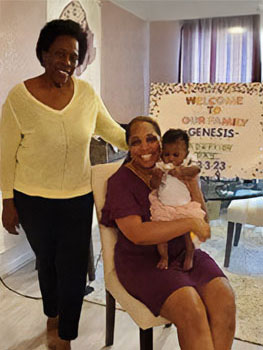 Hi Diane,
It's official!
Genesis Simone is my daughter.
Thanks to you and everyone involved at Lifetime Adoption.
So In Love with Our Amazing Daughter
Dear Jen,
I apologize for my delay in responding!!! You should have seen me RUSHING toward Daimian when I read your email the other day!!! I was only half-kidding when I asked him if we could adopt another baby (boy or girl)!!! We are SO IN LOVE with Angel Joy, OMG!!! If only we were younger and had more time!!! (I'm a mom who is always busy with cool things like teaching yoga or meditation or taking the kids to music lessons, etc. I'm already working on getting Angel into dance in November the second she turns 2, and into guitar and piano and drumming the second she turns 3😂💓).
However, I am spreading the word!!! I am reaching out to people I know, and colleagues, and will share on Facebook today!!!

Adoption has been SO AMAZING!!! Having birthed twin boys, I know the love a mother can feel birthing a baby and I can honestly say that adopting a baby, Daimian and I (and the boys), feel the same love💓💓💓💓 And for me, it's a great gift to also have a great relationship (via text) with Angel's birth mom.
I can never say enough wonderful things about Lifetime Adoption!!! It's awesome to hear from you Jen!!!
Warmly,
Lovie
Fun Watching Her Explore!
Dear Ms. Rotz,
How are you?
It's been a long time since we last contacted you. I hope all is well with you and your family.
Attached are pictures to update you.
Ahava has completed 1st grade and will begin 2nd grade in the Fall. Time flies.
She enjoys the outdoors and playing with friends. She is becoming a really good swimmer too. Her crafts and science kit keep our house messy, but it's fun watching her explore.
Take care,
Bobby and Chaun
Big Day!
Hi! We just wanted to send a little update on Chloë because she has a big day today!
She completed her first year of preschool today and thrived!
She was 1 of 2 kiddos in her class that already knows all their letters and sequential numbers to 20! ❤️
She is enjoying life closer to Mamaw & Papaw and is excited about summer trips back East.
Blessings!
Keyanna
She Melted My Heart
Hello Ladies!
I wanted to give you an update on us. Peyton's adoption was finalized last month. (Yay!). Today, she is 7 months old and doing great. The doctor has said that she is healthy, clearly happy and she is going to be tall.
Peyton melted my heart from day one and clearly the same with my family and even extended family. Peyton has even brought us a new extended family….because Peyton's arrival was unexpected, I did not have my childcare in place. My niece helped out for a few weeks. But then a friend told me about a woman who had a daycare. My friend told me she closed the daycare, however, she would still ask if she was still in the business. The woman, Ms. Kathy, called me. She said closed her daycare in 2019 after 32 years and she is retired. She told me that if I felt comfortable, she would provide care for Peyton temporarily and she would help me find someone who could do it long-term. She said she would reach out to friends still in the business. Peyton was with her for a week and I noticed something. She was not looking for anyone. The following week she finally told me, I'm in love with this one and no one else can keep her so I'm coming out of retirement and she will be with me. Peyton now has GiGi Kathy, Grandma Lily (her mother-in-law), Uncle Lance (her son), and Paw Paw (her husband).
Last story: I have a friend that I've been friends with since kindergarten. Her mother called me yesterday and said you know I've adopted Peyton, she is my granddaughter. My husband and I are celebrating our 50th wedding anniversary next year July 27, 2024, and I want Peyton to be there. I already bought her a dress.
I just want to thank all of you for everything you've done to make this dream come true for me. I know there were some rough spots but I appreciate your patience and understanding. Peyton is really a dream come true!
Nicole

Touching Base
Hello Diane,
I hope you are well. I was going through pictures for a school project and realized I hadn't touched base in a while.
Jordan is doing amazing and will be 3 in 3 months.
She is super smart, in a bilingual school so she can count to 20 in English and Spanish, is taking swimming and gymnastics classes, and is so happy!
We remain thankful to Lifetime for helping us navigate the adoption.
Here are some pictures! Take care!
Tamera

Been a Minute!
Hi there,
Been a minute, so just touching base to let you know Charles started high school last week!!!
He is 14 and the tallest person in the house.
As you can see by the jersey, he is on the football team and he is also on the baseball team!!
John
Blessed with Our Son
Hello,
I am so thankful we chose Lifetime for our adoption journey almost 9 years ago.
We have been blessed with our son beyond measure.
Our journey has proven that love reaches beyond blood and DNA.
Thank you,
Angel
Our Two Cuties!
Hi there,
Here's a photo of our two cuties!
We FaceTime Joaquin's birth mom regularly. Sadly, we have not heard from Vioney's birth mom in a while. I continue to text and send pics and videos weekly (sometimes more). She kept her pregnancy a secret so I respect that interaction may be too painful for her.
When we last heard from her, she said, "Vioney always looks so happy! I can tell she's well-loved. Thank you for taking such good care of her."
That made me cry a few buckets!
Tracy
Time is Flying By!
Diane,
I hope you and the Lifetime family are doing well. It's been a while since I checked in. Time has literally flown by.
Zachary has grown so much and is doing very well. He started 4k in August even though he won't actually turn 4 until November. We got his school photo back today and I thought I would share it.
We spent time with his birth parents in July. We also spent Christmas with his birth mom and her family.
We are so blessed to have Zachary and are very grateful for the role Lifetime Adoption played in getting us together.
Have a great evening.
Kim & Aaron
We're Official!
Hi Heather and Libby,
Wanted to send you a note to let you know today was adoption day. We met with the judge via Zoom this morning, and we are officially a family of four.
We are truly blessed to call ourselves the parents of Kyrah and Kyron. Here's photo evidence of their cuteness!
Thank you for helping us find these precious little ones.
Best,
Amanda
Sweet Peas
Hi Diane.
Here are the photos I took of our two sweet peas.
Thank you again for all your help and prayers.
It meant the world to us.
Niambi and Vincent
Wild Road
Hi Veronica – Wanted to share with you pictures of our Eliana ❤️
Thank you again for journeying this wild road with us! 🙏🏽🤎
Two Wild!
Hi Christie,
I hope you are well! Can you believe it's been 2 years?! Over the weekend we had Xola's "TWO Wild" 2nd birthday party with all of her friends from daycare and church. It was such a special time to celebrate her and think about and pray for her birth mother.
Xola continues to amaze us every day! She's talking, feeding herself, working on potty training, and helping feed our Boston Terrier who she calls "Dog Dog"…lots of big girl things! She loves daycare and her teachers describe her as a "mother hen" because she likes to care for her classmates. She also moved to the toddler class at church and loves learning about Jesus and the special relationship that she gets to have with him. It's amazing to see her developing into the person God created her to be.
Each and every day we are overwhelmed with gratitude to Lifetime for bringing Xola into our lives. She has opened us up to a new, deeper love than we ever thought possible.
Again this year for Xola's birthday, we asked friends and family to make donations to Lifetime Foundation in her honor in lieu of gifts so that you all can continue the important work of building families because it is our hope and prayer that other hopeful adoptive families will be able to experience the deep love and joy that we have had these past two years.
Thank you for all that you do!
Love,
Todd, Anna and Xola
Angel's Homecoming
Hi Tiffany, we made it home yesterday via Angel Flight Soars. Angel was in the NICU 100 days and we are now soooo glad to be home! 😇💃🏿🎉
Learning Lots of New Words
Hi Diane,
Happy holidays to you. Just sharing an update on Jordan who is 19 months, running all over the place, and learning lots of new words in Spanish and English.
Hope all is well!
Tamera



Look Who Turned 15!
Hello Ladies,
All is well.. Look who turned 15 a few days ago!
It's her first year in high school. 9th Grader.
Here's some recent pictures of her.
Sincerely, Juanita
Birthday Princess
Dear Ms. Rotz,
How are you? Today is Ahava's birthday—mine too. We celebrated at Hershey Park last weekend.
She's five already!!!We're still trying to wrap our brains around how fast time flies. We are often in awe when we stroll down memory lane and look at pictures of us when we first held her. We just smile and giggle when we compare them to where we are now.
Ahava gets a kick out of looking at her baby videos and pictures too.
Bobby and Tachaundra
First Day of Kindergarten!
Dear Ms. Rotz,
How are you? Today is Ahava's first day of Kindergarten. It's hard to believe that this time has already come. I remember the first time I held her in the hospital. It doesn't seem all that long ago.
She was really excited. She seemed to have no first day of school jitters. I was the one with the jitters. She is growing up to be a brave and confident girl. I hope it never wanes.
Sincerely,
Bobby and Tachaundra

Very Proud of Him
Hi there,
It has been a busy summer! We are enjoying being able to venture out and see family once again. We took a much needed vacation to Michigan and enjoyed time at the beach.
William has been flying airplanes with his dad and enjoying the views from above. Will ended the school year with an A/B report card. We are very proud of him and look forward to his 7th grade year. He will be taking Advanced English and Algebra 1, the latter being a high school credit! Will also decided to stick with playing trombone for another year in his middle school band. 🙂 Our boy is growing, growing, growing!! Still crushing it in baseball and soon to be a force to reckon with on the football field!
Enjoy the rest of your summer!
xoxo Bubba and Camisha
She's Walking!
Good morning Diane,
Hope you are well.
Can't believe it's been more than a year since I took Jordan home.
Her birth mom stays in touch mainly on major holidays.
Jordan is doing great – she has 6 teeth and is now walking.
Here are some pics.
Take care!
Tamera
Happy Spirited Girl!
Hello Veronica,
It's been so long since I sent an email just to say hello and provide an update on Avery! She's 9 now and such a spirited girl. She's in 3rd grade, loves guinea pigs and singing and is just a happy girl.
I always held onto your information in case I wanted to adopt again but it doesn't look like that is in the cards. But I hope many families and birthmothers find great matches because of Lifetime!

I hope you and everyone at Lifetime are doing well!
Vanessa
Growing So Fast!
Hello Tiffany,
We just wanted to say hi! We are doing well and Cyrus is growing up so fast!
LaKiesha
Life Changing Year!
Hi Christie,
Hope your week is going well! Can you believe, one year ago today, you called us with news of our sweet Xola?! This first year has been a whirlwind! It's been both hard and amazing and life-changing. Xola is doing great! She's loving going to daycare, she's taking music classes and she loves to dance. She's started walking at 9 months so she's pretty close to running at this point! She's curious and strong-willed. We are so grateful to her and to Lifetime.
For her birthday, we have asked her guests to donate to Lifetime Foundation in lieu of gifts so that you all can continue to do the amazing work that you do. We see God in Xola each and every day and we are so grateful that Lifetime was the vessel that God used.
Our advice for new adoptive parents in the first year is to take advantage of the Lifetime webinars!!!! They help prepare you so much. I wish we had done more of them.
Cheers to Xola's first birthday!
Many thanks and blessings,
Anna & Todd
Blessed Day In and Day Out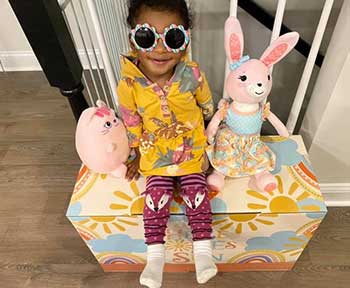 Hi Christie!
Chloë just turned 2 and she is a tiny little ball of personality. VERY tiny… we finally hit 20 pounds which is not on the growth chart but she makes up for it in allll the other ways.
She loves to be outside, play with her kitties, eat French fries and face time with our family – especially her cousin!
We are blessed day in and day out to be her parents. We also enjoy updating her birth parents on her through photos and videos that we send them.
I hope that you are also well.
Always,
Albert, Keyanna, Chloë, Virgil and Vladimir
P.S. do you have information specific to families that are interested in adopting with you a 2nd time? WINK WINK.
Time Flies!
Hi Veronica,
Charles turned 13 on Sunday!!!
Time flies when you are having fun!!
He is almost my height and eats more than me!!!
John & DeNise


Turning 12 Already!
Dear Diane,
I hope you and your family are safe and healthy during this crazy time.
Langston turned 12 in September, though it was a quiet birthday. We got together with his best friend Tyler (born only a few days later, October 4) for pepperoni pizza and for Langston, red velvet birthday cupcakes. He does not have much of a sweet tooth, but he loves red velvet cake!
Langston has been in online school since last March 12, so there is not much to report regarding his extracurricular activities and relationships at school.
The isolation of the pandemic has been a stresser for him, as he is still such a happy, social person. We are hopeful for the vaccine soon, so that we can begin to get things going for him again.
He is taking vocal lessons and acting classes via Zoom this winter, and this summer, he went to Film Camp (via Zoom of course). He is so very curious and creative.
Langston continues to be an excellent student, and has made the Honor Roll each semester since starting middle school in the Fall of 2019. His middle school starts their students in 5th grade. Last semester his average for all his classes was 94.5! Math is always a bit of a nail-biter, but he works very hard to push through it. He has the motivation of maintaining at lowest a "B-" average with his classes, so that he can continue to play Roblox and other video games online with his friends!
Hopefully, there will be more information about Langston's activities next year. Take care!
Robin
Belly Scooting
Good morning Diane,
As we head into the New Year I just wanted to send you a note and say thanks for all of your support this year.
Jordan will be 8 months in less than a week, and the Court finalized her adoption last month.
She is belly scooting (rocking and back on all 4s so I think crawling is coming soon), has 2 bottom teeth and we just started swimming lessons. Happy New Year!
Happy Little Girl!
Hi Robyn and Tiffany!
We are moving right along with our adoption post placement visits and couldn't be more excited!
Have a Merry Christmas and Happy New Year!
I hope you enjoy these pictures of our happy girl, Evie 🥰
Fourteen Now!
Hello Ladies,
I just wanted to check in to say hello. All is well with us.
Angel is 14 now and in the 8th grade. She is still sweet and very talented. Loves to draw. We moved back to Texas in 2019 and loving every minute of it.
Happy Holidays!!
Juanita
Beautiful Two!
Hello Ma'am,
Hope Thanksgiving was wonderful.
Here are some updates pictures he took in October and Halloween.
Have a great holiday.
So Perfect
Jen!!!!!
It's the most surreal feeling EVER!!! We are over the moon. She's just so perfect. It's a literal dream.
Thank you for reaching out to me, we've definitely been walking around with exhausted grins lol. I'm wonderfully sleep deprived!!
She is the BEST snuggle partner ever. Her brothers might not share though 😉😅
It definitely feels like yesterday that we had our chat and now… We have our girl 😍 God is amazing.
All the love,
Petra
A Blessing
Hi there,
I just wanted to send you pictures to share. My friend I referred was also matched. What a blessing you all have been to both of us.
Tamera
Adorable and Awesome
Here's our super adorable, loving, awesome, smart, handsome 20 month old. 💕❣️💕
Aaron & Kimberly
Where Has the Time Gone?
What a crazy year it has been!! Tomorrow William turns 11 and I honestly don't know where the time has gone! We hope you and your family are healthy amidst the Covid 19 pandemic. In spite of all the challenges this school year, William still managed to make all A's and will move on to 6th grade this fall. His teachers have recommended he enroll in advanced Math and English classes and we couldn't be prouder. He also wants to try his hand at learning to play an instrument so he will take band class too. Football and baseball are still his favorite sports. We have stayed close to home during the pandemic. Will has been busy swimming, riding his bike and making his first strawberry pie. It was delicious! He also planted a small garden as part of his at home science work. So far it's produced tomatoes, blue baby potatoes, jalapeño peppers and 4 crimson sweet watermelon. Not too shabby.

Continued prayers for health and happiness.
Stay safe-
Camisha and Bubba
Happy and Grateful for Everything
Hello Tiffany! Hope you are doing well & staying safe. Everything is going great with Miah. She had her first doctors visit this week & she now weighs 9lbs 4oz. 😊 Also I wanted to share some of our photos. They are just too cute not to share. We are overjoyed and so thankful to you & all of the other amazing staff members at Lifetime that made our dreams come true.💓
Doing Great!
Hi Diane,
Hope all is well. I can't believe a month has passed so quickly.
Here are recent pics of Jordan. She is doing great!
Tamera
Imprinted on My Heart
Hi Christie,
Thanks for reaching out! We are doing well! We are finally getting into a rhythm and we have Xola on a great schedule that's giving us about 4.5 hours of sleep at night between feedings, so we feel like humans again…LOL!
From the time we first reached out to Lifetime in 2016 and chickened out of signing on 3 times between 2016 -2018, Kim King was just as helpful and kind each time, which let us know we were choosing the right agency. When we finally signed on in 2019, it was seamless and just easy…but let me save some this for our review!
I've attached a couple pics of Xola. She's growing and changing so much…it's crazy! She's beautiful and strong willed (already). It took us a little time, but we know for certain, that she was meant to be a part of our family. Thank you Christie for getting us to our little girl. I will never forget getting that call from you at 8:00 AM saying "Sooooo your birth mom had the baby"…your voice and that moment is imprinted on my heart.
Love,
Anna & Todd
Our Family of Three!
Hi Jen,
This has been an eventful year for us as we bought our first house and took our first international vacation as a family of three! Jamaal and I will keep Lifetime employees, birth families and adoptive families in our prayers.
You have reached out to us on the anniversary of our Family Day (we don't use the term Gotcha) as our adoption was finalized two years ago today. For the past two years we have done a fun family outing to celebrate however, due to social distancing restrictions we are celebrating at home this year. One of the ways we celebrated was to participate in the national Front Porch Project where a local photographer took our photos from our front porch! I have attached some pictures from the photo shoot so you can see how much Michaela has grown since you last saw a picture of her.
We are forever indebted to your agency for matching us with Michaela's birth family.
All our best,
Jamaal, Erinn and Michaela

Such a Joy!
Dear Ms. Rotz,
How are you?
I hope you had a great Resurrection Day.
We did.
It was such a joy watching Ahava enjoy an egg hunt, especially since our movement has been restricted.
Stay healthy and take care.
Bobby and Tachaundra

Spreading a Little Sunshine
Hi Linda!
I was just thinking of you and wanted to spread a little sunshine your way! Roman is 20 months now and I can't believe how fast the tome has gone by. He's a busy toddler now, he loves music, dancing, the Hulk, and playing with his big brother! I hope all is well with you during this time. Be safe!
Kristan and Georgio

Our Beautiful Daughter
Thank you for reaching out. My husband and I have been talking about adopting again but haven't made a decision yet.
Sending you a picture of us and our daughter Savannah.
She's 10 months already!
Thank you for all that you do!
Chasiree and Terin
12 Years!
Hi Veronica!
We can't believe 12 years have gone by!!!!
We are still humbled and grateful for the work that you did and Lifetime did making us a forever family!!
Her First Christmas!
Merry Christmas!
We are so excited for Chloë's first Christmas!
She is scooting all around and has two tiny teeth.
She says Baa Baa all day long and loves snuggles with Daddy and trying to catch her kitty Virgil.
We can't believe she's almost 10 months old!
Keyanna and Albert
Our Amazing Girl
Hello!
I have attached a few photos of our amazing little girl we adopted through Lifetime.
I hope you have a Merry Christmas!
Best,
Melissa
Wouldn't have it any other way
Merry Christmas!
Wishing you a wonderful holiday and New Year!! I'll never get tired of reporting how well Will is doing in school! All A's, and voted MVP/Best Defensive Tackle this football season. I am happy to report he is now taller than me (not hard to do)!! This child keeps us on our toes! Wouldn't have it any other way!! Hope all are well and know you are always in our thoughts.
Sincerely,
Bubba and Camisha

Growing So Fast!
Hi Christie!
Hope you're doing well.
Chloë is growing fast, rolling allllllll over the place and has two little teeth poking through!
Thanks!
Keyanna and Albert
His Favorite Word...
Hi Diane!
Kameron is doing well. He's walking like a champ and has learned quite a few words. His favorite word right now is "eat", but he can also say football, light, no, go, mommy, daddy, sister, dog, school and tell us when it's raining. He can also count to 10. He is also quite the dance machine. He loves music and really loves to be the center of attention. He has gotten almost all of his baby teeth and likes to brush his teeth. He is such a sweet boy, and is such a joy to have as part of our family. 🙂
Kevin and Chemeika
In Awe of Him
Good Morning Diane,
I hope you and the Lifetime family are doing well. It's incredible to me how the time has flown by. Zachary is 9 months old already and Aaron & I are in awe of him as our love for him grows stronger every day. Zachary's demeanor is still as sweet as the day he was born. Every Sunday we are greeted by Zachary's fans as everyone from the Kids Unlimited staff to the Pastor is anxious to hold him and show him love. Kids Unlimited even used his pic on Instagram to promote Kona Ice one Sunday.
There's so much to love about our new family dynamic, I especially love the bond he has with his Daddy. He also loves his furry big brother, Nico. Zachary is happy, curious, smart, and now that he's crawling things are starting to get interesting!
The most common phrase we hear from family and friends is, "He looks just like you!" 😊 We are 100% positive that this match was ordained by God!
Kia and I have been staying in touch via text and I've sent photos to her monthly. She had scheduled a visit in June but had to cancel at the last minute. She did not respond to the last text I sent with Zachary's 9 month old photo. I'm praying all is well with her and we're hoping she can make a visit soon.
Kimberly and Aaron
Looking Forward to What the Future Has in Store
Hi!
Here are some recent photos of William. He had a great school year and will be moving on to 5th grade. He finished the year with all A's, assisted in the computer lab, made a run for a position on student council and was a reading buddy to kids in lower grades. We are so proud of him and the work he does in and outside of school. His baseball team were runners up for county champs this season. It is always fun watching him at bat. He usually sends it far into the outfield. We hope you are enjoying your summer. We have been busy visiting family, fishing and swimming. Football practices begin next week and Will is eager to get on the field!!


Hard to believe William will be 10 years old. I wish I could slow down time, but I am looking forward to what the future has in store for our boy!!
Best wishes-
Camisha and Brian
Absolutely Precious!
Hey Natalie!
Just wanted to share with you (and everyone else) new pictures of Miriam. She is 18 months old now. I just can't believe it.
Rachael and Daniel
(Natalie mentioned that she was thinking about this family the other day, and what a great relationship she had working with them, when coincidentally she received this beautiful update from them!)
A New Life Begins
Maya Elizabeth was born in April. She weighed in at 6 lbs., 8 ounces and was 19 inches tall.
This photo tells it all!

If we can help you or someone you care for, share this link to our free application: LifetimeAdoption.com/apply
From Toddler to Big Girl
Ahava is getting so tall and smart. She's 2 1/2 years old now.
We're in the middle of potty training, so she's transitioning from the toddler to big girl stage. She can sing the alphabet. She knows most colors and some numbers.
She has even started making up her own stories as she flips through picture books.
She really likes all kinds of animals and she is super friendly.
Take care,
Bobby and Tachaundra
4 Years Old!
It has been quite some time since my last contact. You may not remember me or Gavin any longer, but he will be 4 years old this next Friday, February 22nd. It seem like yesterday I got the call to head over to the hospital for his arrival and now he is running around like the Big Boss in the house picking up new things, new languages. I am currently in the process of researching schools, which is a very challenging task in itself, as his first years of school are so important and I want to make the right decision.
Best Regards,
Natacha
Today!
I'm happy to inform you that TODAY our adoption of Zachary was finalized!!!
I want to personally thank you and the Lifetime staff for an absolutely AMAZING experience. It was exactly 1 year ago today that we were accepted by Lifetime Adoption and our journey seems to have literally coasted from that day to this one.
Looking back over our journey, I am so THANKFUL: firstly that God led us to Lifetime; secondly for the support and resources, especially the webinars; and thirdly for the encouragement- the timely cards and especially the letter that said it was our turn to be lifted in prayer by the entire staff one particular week!
I never dreamed our lives would be forever changed so quickly and so drastically. Aaron and I are head over heels in love with Zachary Noah and we thank God and Lifetime for the role it played in bringing Zachary into our lives.
We continue to have an awesome relationship with his Birth Mom and look forward to whenever she's ready to visit.
God bless you!!!
Kimberly and Aaron
Thank You for Everything
Wanted to share some photos with you.
Thank you for everything.
Justin and Daphne
If we can help you or someone you care for, share this link to our free application: LifetimeAdoption.com/apply
Keeping Us Busy!
Here are some pictures of our boy.
He's doing great and keeping us busy!
Kirmanie and Dona
How Much We Love Him
To Our Dear Birth Mom,
We are so glad that you reached out and wanted to know how Kameron is doing. He is growing so fast. He is now around 18 pounds. He is such a happy and playful baby. He loves to smile and coo. He has brought so much joy to our family these past six months. Some of his favorite things to do are play with his big sister, eat, and watch Paw Patrol. He really loves Paw Patrol lol. He is now sitting up by himself, as well as pulling himself up to stand. He is not crawling yet, but he is scooting. We expect him to get his first baby teeth any day now. We tell him how much we love him daily, and we also tell him how much you love him. We want to thank you for trusting us to care for him. We love him dearly, and feel blessed to be able to have him in our lives.
Sincerely,
Kevin & Chemeika
Amazing Grace
Our first Christmas with Grace was amazing. We can't believe how quickly these 8 months have gone by and how much she has changed our lives. Life is better than we ever thought it could be. We just wanted to share a few pictures.
Thanks for all you do and Happy New Year!
Love,
Candice, Gregg and Grace
Our Little Princess
Just wanted to send a quick update about our little princess.
Grace turned 4 months on Friday. Can you believe it?!
She is the silliest, sweetest and most affectionate little girl.
Preemie or not, her doctor is amazed by how advanced she is and by everything that she can do at just 4 months. Today we had a checkup and we received the all clear to start eating solid food. This should be fun!
She is a mover and a shaker and certainly a talker!
We are loving every moment with her and she is definitely the biggest and best blessing we have ever received.
Love,
Candice, Gregg and Grace
Simply Perfect
It's hard to believe it's been a year since we became parents to Michaela. She is simply perfect and everyone who meets her agrees. Michaela is smart, curious, funny and opinionated. The deacon and his wife from our church call her "The CEO" because she clearly runs things around here! Last month we celebrated her first birthday and it was a wonderful testament to the amazing tribe of people who help us raise our baby girl.
We now have a great relationship with her birth family and we keep in touch through cards, letters, and texts. Thank you and the Lifetime team again for the work you do in building families. We feel incredibly blessed to be Michaela's parents.
Here are some pictures to highlight how much she has grown!
All our best,
Jamaal, Erinn and Michaela
Very Proud of our Young Man
Here are some recent photos of William.
He finished out the school year with a very good report card- 4 A's and 1 B!! He scored advanced in reading and math as well.
The highlight of his school year was performing a dance routine with friends in the school talent show. They got the crowd cheering and clapping to a popular Bruno Mars song!
William recently finished baseball and has begun football conditioning for the summer.
We've been busy seeing family and friends and spending time at the beach.
We love our William and are very proud of the young man he is becoming.
Always grateful to the team at Lifetime for helping complete our family💜.

Thanks Diane and enjoy the rest of your summer.
Camisha and Brian
So Much Joy!
Here some pictures of Maesyn from her 1st Birthday photo shoot.
Hard to believe she is a year old, but we have and continue to enjoy every second with her. She's brought so much joy not only to our lives, but everyone she comes into contact with.
We can't thank Lifetime enough for the experience and helping us have our forever family.
Reggie and Martina
So Amazing!
15 months ago, when Ahava was 6 months old, we visited San Gimignano, a town in Tuscany. Now that she is 21 months old, we visited the town again and took a picture in the same spot.
Wow, It's amazing how much she's grown.
It's amazing how she has transformed from a baby to a toddler right before our eyes.
Bobby and Tahaundra
First Birthday
Can you believe it's been a year?! We just celebrated Avery's First birthday and reflected on God's amazing design for our family. Avery is doing well. You wouldn't ever imagine he started off 3 lbs. (#another miracle) He's babbling up a storm, getting his "walking legs" and becoming friends with all his cousins… And if you could only see the bond that is developing between him and his NaNa. It makes you melt.
So you know we had to share with you all, his GodAunties, a few pictures from the party. Know that we love you all and the work you do is life changing.
Love,
Jamal, Niambi and Avery
Thank You
We are getting settled and absolutely loving life! We were able to celebrate Grace with our family and friends last weekend at what was supposed to be her baby shower. We received so many amazing gifts. Grace has so many clothes we can't even fit them all in the closet!
She is 1 month today. We can't believe how quickly time is going. She had a check up today and she is doing great. She is already up to 7 pounds!
This has certainly been a long and trying journey but the faith walk was totally worth it! Grace is perfect!
We just wanted to say thank you for everything and for the book! It is such a special gift and will definitely be a part of her story.
Love,
Candice, Gregg and Grace
Our Joy!
We had the transfer of custody hearing today for Noah!
Everything went well and we expect to finalize right before Thanksgiving.
Noah was fast asleep thanks to Grandma, the baby whisperer lol!
Noah is 8 weeks old and growing so fast.
We just love every minute with him!
Daniel and Nabintu
So Blessed to be Her Parents
We had our first parent/teacher conference with Ahava's toddler room teacher today. The teacher says that Ahava is a caring little girl. She says that she tries to comfort other children when they cry. She also says that Ahava easily joins in and plays with other children. We are so blessed to be her parents. It's been 18 months and we are awestruck by her every day. She loves nature and being outside. She gets really excited when she sees animals. Of course more pictures are attached. We can't seem to stop snapping. Ahava is such a good traveler. She loves observing her surroundings.
She really likes to go on trips because she enjoys the outdoors and we are outside a lot. She waves and says "ciao" to the people passing by. We try to capture every precious moment that we can. Thank you all again. Your work at Lifetime impacts so many people's lives in such a positive way.
Bobby and Tachaundra
Sibling Joy

Here's a couple of pictures of our wonderful boys.

They are doing great!

Nick and Jamy
God's Plan for This Precious Boy
We had a nice visit from Ed and Karen.
Karen's sister was with them and ironically she is a case manager nearby. Karen said that Joshua is having surgery next week to close the hole in his heart – other than that he is a very active, healthy 7 month old. That little one did not stop the entire time he was here – and so strong! My goodness, I thought he was going to start running! Ed and Karen are so sweet and we really enjoyed working with them.
They originally wanted a girl but are so happy now that they were blessed with this little boy. Most definitely God's plan to put this precious boy in the home of a nurse practitioner and a dad that has the flexibility to be home most with him most of time (he jokes that he does not do nights though LOL).


Good Morning Ladies!
Daniel, Noah and I made back to St. Louis safely. ☺️ It rained thru all 5 states, and Daniel was a trooper, driving the whole way. Noah did really well.

We are so grateful for your guidance, and for referring Dion to us. He was wonderful and took great care of us. We are so blessed to go into this holiday with Noah here at home with us!

My Mom and brother were so excited, they decorated for Noah and for Easter.

Have a wonderful Easter!

Daniel and Nabintu
Hello!
It's me, Keeton!

(Could he be any cuter?)
(Seriously!)
If we can help you or someone you care for, share this link to our free application: LifetimeAdoption.com/apply
Crazy Wonderful and Amazing!

Things are going well here in Detroit. We moved to the Ronald McDonald House yesterday – it is such a blessing! The doctors say he is doing wonderfully. He's eating well and resting. All the nurses just love him 😁
God is so amazing how he worked through Noah's birth mother and her Grandmother for us to have Noah today. We exchanged information.
Crazy wonderful whirlwind happening here, but God is with us each step of the way. And with you ladies by our side too, we feel quite confident.
Everyone in St. Louis is anxious for us to get home so they can love on him.
Daniel and Nabintu
Our Beautiful Girl

Here are some recent pictures of our beautiful girl!
Jesse and Alicia
If we can help you or someone you care for, share this link to our free application: LifetimeAdoption.com/apply
Growing So Fast
Ahava is growing so fast. She is making so many friends and getting invited to birthday parties. Attached are pictures and video of her having a ball at her friend's birthday party. Check out her facial expression when she falls in the balls. It's hilarious.
It is a joy to watch her evolve from a baby to a fun-loving toddler. She is very social and becoming more independent each day.



Bobby and Tachaundra


Boys Are Such a Blessing
We just celebrated 3 years with these beautiful boys. Here are a few pictures to share because "they are so stinkin cute". They are both doing well in school and are so loved. Alexander is a big ole ham and Cassius is the momma hen. Thank you, our boys are such a blessing. I truly don't know what I'd do without my boys.
Robin and William
A Beautiful Family
Here is another one of the beautiful babies that was born this month.
The adoptive Mom, Megan, was able to be there in the room for the birth.
Both Birth Mom and Adoptive Mom were so happy to be able to share that special moment.
The family just got home earlier this week!
Congrats to New Jersey Adoptive Family!

Stealing Hearts
We had Miriam's pictures taken today, and wanted to share them with you.
We are so in love with her.
She is one special little lady stealing hearts of everyone around her.


Best Regards!
Best to you in 2018!

Jerome and Tavonia


If we can help you or someone you care for, share this link to our free application: LifetimeAdoption.com/apply
Happy New Year!
It's been a long time since I've been in touch with all of you. It is amazing how time passes and life takes priority, but you all are never far from my thoughts. Every time I look at my little Gavin I remember how important of a piece of the puzzle you all were in making us a family. Gavin will be 3 years old this coming February. He's handsome, smart, funny, teaches me new things everyday through his eyes and has a smile that would brighten anyone's day. There are days when I still can't believe this amazing little person is my son and growing faster than I would like. The two best decisions I've ever made was praying for him and reaching out to Lifetime. I've never been so happy to be his Mom and to have him call me Mommy.
I wish you all a wonderful love filled 2018,
Natacha and Gavin
Babies Happen!
Our adoption was finalized Wednesday, December 13, 2017. We finalized via telephone with a judge and our lawyer in Florida while we were in Italy with a notary.

So if any couples are concerned about living abroad being a hindrance to domestic adoption need not worry.

It can happen.

Attached are some photos of us and Ahava.


Bobby and Chaun
Falling More in Love
Here are some pictures of Ahava at a pumpkin patch and and at Lake Garda, the largest lake in Italy.

She loves the outdoors.



We're Official!
Allow me to introduce you to Avery Chancellor, the miracle you all helped God bring into our lives and for that we are forever grateful and forever connected.

May God bless you each in the specific areas you've prayed for, giving you the desires of your heart. Because you do just that for others.

Always,

Avery's Mom and Dad – Niambi and Vincent


Brothers
Here is Christophe at 9 months. He is crawling now and getting into everything. In addition, he tries to talk and keep up with his big brother, Kalev. Kalev looks after Christophe and redirects him. He is very protective of Christophe and makes sure that he is safe.
Well, take care and have a great Holiday!

Regards,
David and Rispba
Happy Baby
Ahava is doing well. She's such a little busy body. She's walking now. She's a little wobbly, but she improves her balance each day. She is a very social and happy baby. She is so smart. She figures things out very quickly.
– Bobby and Chaun
An Absolute Joy
The year has flown by! It's so hard to believe how quickly things change. Aviya is walking, talking some, and has quite the personality. She's already been on two international trips (Antigua and Costa Rica) and we will be in South America in November.

She is an absolute joy! We are so very thankful to Lifetime and her birth mother. We've seen her birth mother a couple times since the adoption. Her adoption was finalized in December, and hopefully, we'll add to our family through another adoption next year!

-Jason and Yava
His Adoption is Final!
Well, the sun and the moon aligned for us on this eclipse day, and we finalized Jeremiah's adoption! So fast and so thankful!

-Seth & Shiloh
Loved Beyond Measure
Congratulations to Nick and Jamy, from Wisconsin, on their recent adoption of siblings! These adorable brothers are under 18 months old and already loved beyond measure.

Celebrating Our New Arrival
We're doing well and are in the depths of potty training! We figured we better work with him on this while we have the time before we go back to work.

Maybe we will work together again when it is time for a brother or sister!

Have a great day,

Seth and Shiloh
He's Been Our Greatest Joy!
William has been our greatest joy! Here are some recent photos of him. He completed second grade on the honor roll and we're so proud. He recently tested and was placed in the advanced categories for math and language arts. He is one smart kid and we hope he continues his love of learning.

Baseball ended last month and football practice starts next week. Will is ready to go! His coaches are excited for him to be on their team this year. He is quite tall and strong!

Many blessings to you!
Camisha and Bubba
Just Like Daddy
Look who is sitting up at less than five months (and ate all my mangoes!) Keeton is like daddy…one has sweet tooth the other sweet gums!

He's such a good baby!

-Karl and Donna
Our Dream Come True
We are so happy for Jamal and Niambi on the adoption of their son, Chance!

They wrote to us, "This all feels like a daydream. We are so excited. As soon as Chance can make it, we are taking a trip to Lifetime's office. Thank you for EVERYTHING! We're grateful!

We hope that seeing our photos blesses someone else and helps them hold onto the faith.

Chance has a ways to go, but God is performing a miracle daily with him. We're just happy to be here to see it."

If you are thinking about adopting, please call or text
1-800-923-6784 to speak with one of our adoption professionals.
God Heard Our Prayers
We are all doing well. It's hard to believe a year has already passed us by!

Our precious son is growing up quickly. He's walking and running about and bursting with energy. He is a very happy and pleasant child. He's kind, loving, and affectionate. He has a very big appetite and loves vegetables. I think mashed potatoes and gravy might be his favorite dish. He likes playing with blocks and is learning the alphabet.

We're very blessed and happy parents. God truly heard our prayers when He brought us our boy!

Here is a picture from his first birthday.

Sincerely,
Morgan & Wendy
Adopted in Love
We're excited to congratulate Illinois adoptive couple John and Lesa!

They just adopted a precious baby boy through a Lifetime adoption!


Discover how Lifetime can make your dreams of domestic adoption come true!

Call us at 530-271-1740 or send us a message.
A Miracle is Born
We're excited to congratulate adoptive couple Dane and Demitra! After a short adoption wait, they just brought home a precious baby boy, DeAngelo, through a Lifetime adoption!

They emailed Linda, Director of Adoption Services at our Florida office:

"DeAngelo's birth mother delivered around 6 pm, and we arrived to meet him the next morning. Everything went very smoothly. The hospital staff was wonderful, the attorney wonderful, and Lifetime's teamwork could not have been better. We feel blessed and thankful for Lifetime's support!"
Born in Our Hearts
Callie is getting big and climbing everything she can. We are considering a bubble wrap suit. 🙂

We talk and FaceTime with her birth mother pretty regularly. She is doing very well, as are we!

-Corey and Cerissa
My First Mother's Day was Truly Extraordinary!
Although we did ordinary things this Mother's Day weekend like going to church and spending quality time together, it was an extraordinary weekend because of Ahava. Our first Mother's Day was truly extraordinary!

Arrivederci (goodbye),
Bobby and Chaun
"Lifetime Does God's Work!"
Ahava is doing very well! She is getting busier each day. She is so curious. She has two little pegs that have grown in at the bottom.

We all just wanted to say hello and thank you again. Lifetime is doing a great job at doing God's work by working according to His purpose to create families.

-Bobby and Chaun
"God Has Blessed Our Family!"
Lifetime would like to congratulate Texas adoptive couple David and Rispba! They just brought another baby boy, Christophe, home through their second Lifetime adoption! He joins big brother Kalev, who was adopted through Lifetime in 2012.

"Christophe is coming along well. We make sure that he stays healthy at home and by seeing his doctor for his checkups. Our son Kalev has developed a strong bond with him, and always wants to help us out in caring for Christophe. He loves his little brother very much! God has extremely blessed our family with him!" David and Rispba write.
Our Boy is a Joy
Michael and Cynetra's of adoption of little Kaden was just finalized in court last month!

"He's such a happy boy, and such a joy! He's always singing, drumming, and dancing," share new parents Michael and Cynetra.


Discover how Lifetime can make your dreams of domestic adoption come true!

Call us at 530-271-1740 or send us a message.
Grateful to Be His Mom!
Langston continues to be a happy and well-adjusted kid, who loves his friends and family. He is a trusted friend in school and can be counted on to do his best by administration, teachers, and schoolmates.

He loves tennis, basketball, baseball and dancing. He is funny, joyful, intelligent, and a caring individual. I am very grateful to be his mom!

-Robin
Sweet Baby Boy
Lifetime would like to congratulate adoptive parents Karl and Donna from Connecticut!

They just brought their baby boy, Keeton, home through a Lifetime adoption! They share:

"He is quite the nosy boy, always looking around and looks at you when you speak to him. Jacob, his big brother is waiting to meet him!"
Worth the Wait
Thank you Maurice and Kim, for this encouraging update!

"We hope you had a wonderful Christmas. We did a remake of a picture we took back in 2014 when we started our adoption journey!"

We can't wait to see little Winston grow up in your loving home! Happy New Year!
Making the Grade
William made the honor roll this semester and we are very proud! He loves to read and his teacher says he is reading at the third-grade level.

Football and baseball are still his favorite sports. We recently took a trip to Puerto Rico and he was able to hike through a rainforest and swim near waterfalls. Both William and his brother had a lot of fun on vacation!

God Bless!

-Brian and Camisha
Happy Baby
"We're so happy. Ahava is thriving. She wakes up laughing and smiling every morning.

She's beginning to make cooing sounds. Bobby and I are so tickled with everything she does."

We love these updates, Bobby & Tachaundra! Can't wait to see how she grows up!
Holiday Blessings
Our son is an amazing little boy who's now six years old. He started 1st grade in August and he loves school. He's very smart, curious, and excited about learning new things. When Yolanda volunteers in his classroom, he always actively and eagerly participates. He likes to have lots of fun, and he loves to try to make others laugh.

Right now, his favorite sport is soccer. This winter he'll play basketball and he also wants to take Karate. In the summer, he enjoys playing at the beach and in the swimming pool. During the cold months, he looks forward to playing in the snow. He has asked for a snowboard and a pair of skis for Christmas. He also likes music, playing Uno, board games and with his Rubik's Cube.

I was just on the Lifetime site, looking at the families waiting to be matched. I recalled when we were one of those families and how that feels. This evening, I said a prayer for all those families and the birth parents. God Bless You and your staff for being the angels to guide everyone through the process.

Thanks and Enjoy the Holiday season!

-Gerald and Yolanda
Baby's First Thanksgiving
We hope you all had a wonderful Thanksgiving!

Bobby and Tachaundra gave us this little update on their daughter, Ahava: "This Thanksgiving we are so very thankful for Ahava, her birth mother, and God leading us to Lifetime Adoption. Happy Thanksgiving!"

It was Ahava's first Thanksgiving. Look at that big, adorable grin!
Sweet Baby Girl
Lifetime would like to congratulate adoptive parents Jeffrey and Aja from Texas…

They just brought their baby girl home through a Lifetime adoption!
Isn't She Lovely
Ahava is growing so fast. We're still in awe at how God found the baby that is meant especially for us. At times, I suddenly get a wave of gratefulness when I look at her.

Diaper changes and feedings are such a joy because we've waited so long to do what some think is mundane or routine.

Grandma, great grandma, aunts and cousins can't seem to get enough of her!

-Bobby and Tachaundra
Lifetime Helped Make This Life Possible!
Here's a picture of us from our Halloween at our church's trunk or treat. And also one from Avi's dedication ceremony at church.

As you can see, we're a happy family! Thanks for helping make this life possible!

-Jason and Yava


Enjoying Every Moment
Thank you so much for everything you have done to help us start our family through adoption. We will always have fond memories of the time we worked together.
We are so excited to finally have Winston with us and are enjoying every moment.
Thanks again!
-Maurice and Kim
He's Our Answered Prayer
We are enjoying our sweet baby boy so very much. He has answered our prayers a thousand times over!

He is healthy, happy and growing very fast. The past six months have just flown by!

-Morgan and Wendy
Our Adoption Story
We got the call from Lifetime a week before our birth mother's due date and flew out to her town a few days later. She ended up being a week late and baby Braely was born on September 1st. She is a tiny, precious little girl!

We pray for Braely's birth mother and our potential relationship with her. We are in love with our little girl, who is super easy going. Her big brother is very busy, so they complement each other perfectly as she is patient with him wanting to help us care for her.

We waited for while for our girl and God once again answered our prayers. Holding her gives us peace knowing God's perfect plan. We must always trust His timing because it is always perfect!

Thank you Lifetime for always being there when we needed information or encouragement. Lifetime helped communicate with the hospital social worker and lawyer when we were waiting for Braely to be born. It is always nice to know Lifetime staff is there to help. Both our children are Lifetime babies and we love that they have that in common! Happy and blessed!
David, Chantel, Liem and Braely
Thank You, Lifetime, for All Your Guidance!
We want to thank you for all your guidance and care during this transition time in our lives. Just when we thought an adoption wasn't going to happen before we moved, it happened!

Our daughter, Ahava Grace, was born on Tachaundra's birthday. How awesome is that?! She is the sweetest. We love her so much. Her birth mother will always hold a special place our hearts.

-Bobby and Tachaundra
So In Love
Lifetime would like to congratulate new adoptive parents Kyle and Taylor. They just brought their baby girl home through a Lifetime adoption! Their daughter was born weighing seven pounds, two ounces, and was 20 inches long.
Kyle and Taylor emailed their Adoption Coordinator, Diane: "We are so relieved and so in love. She is beautiful and so sweet! We've decided to name her Zoey Elizabeth!"
Twice Blessed
Lifetime would like to congratulate adoptive parents David and Chantel.

They just brought their baby girl home through their second adoption with Lifetime!

Little Braely joins big brother Liem, whom David and Chantel adopted as a newborn in 2012.

David and Chantel emailed their Adoption Coordinator, "We love our easy-going girl! She's such a doll!"
Blessed by Adoption
Lifetime would like to congratulate new adoptive parents, Maurice and Kim. They just brought their baby boy home through a Lifetime adoption! They've truly been blessed with a wonderful experience and a lovely birth mother.

Maurice and Kim shared with us: "Time has been flying by, but we are loving every second of it. Here's a recent picture of Winston, and a video about our adoption journey to him.

Thanks again for everything you have done for us to make our dreams come true!"

Such a Cutie
Mia is getting so big. She is now on the charts with the rest of the 1-month-olds.
We had a welcome shower for her where she was showered with love. She appeared in some hospital pictures on her discharge day, and we've been the paparazzi at home. Her next official shoot is at three months; time is flying! She is such a cutie!
-TJ and Adriane
A Gift from Above
We can believe it's been almost 3 months since we brought little Aviya home. Her personality is really starting to shine now. She laughs and coos all the time! She loves bathtime and having us read to her.
We recently had a homecoming shower and the love and support from our friends and family was amazing. Since Yava is a veterinarian, the party planning committee themed the party in Doc McStuffins. We asked for African American-themed books and especially those related to adoption. We were showered with baby gifts, advice, and books!
Aviya started daycare this month too. Mommy cried and she and Daddy giggled!
We are eternally grateful to Lifetime and her birth mother for blessing our lives so abundantly.
-Jason and Yava
Make a Wish
This picture is from our Disney trip for Aiden's 2nd birthday with the Lifetime family!
Also, we're glad to report that Aiden's birth mother and Toni are still very close, and FaceTime at least twice a month. Through the grace of God, his birth mother was able to share her experience with her family. They have also seen Aiden through FaceTime.
-Gerald and Toni
You can hear Gerald and Toni's adoption story at AdoptionWebinar.com. Toni answered waiting adoptive family's questions, parent-to-parent.
He's the Center of My World
Gavin is doing well, I can't believe he's almost 18 months either. The time has gone by so fast it's like a blur. He's so precious and the center of my world.
He's definitely a little character. He's energetic, funny and even on his bad days he still smiles his seven little teeth. I get a text every now and again from his birth mom, she also can't believe how handsome and big he's gotten. She doesn't want to meet him in person which is a little sad but understandable. Here's a photo of Gavin at the end of his 16th month. He really keeps me on my toes but sometimes I think about giving him a sibling. The summer has been nice and low-key some travel both local and abroad and a few play dates and a lot of mommy and Gavin time!
-Natacha
Our Lifetime "Baby", 8 Years Later!
One of Lifetime's adoption coordinators shared: "What a way to end the week! I just got a call from adoptive parents, John and Denise, who completed their adoption in 2008. They wanted to say "hi" and let me know that their son is a straight A student going into the 3rd grade.
John & Denise said they are very proud of their son and that he has a beautiful spirit. They recently took up running as a family together." (These updates are so inspiring! Look at that smile!)
If you dream of adding a child to your family through adoption contact us or apply today: LifetimeAdoption.com/apply.
Adorable Sweet Baby
Congratulations, TJ and Adriane, on your lovely baby girl! We are so excited for you!
One week after she was born, little Mia left the hospital with TJ and Adriane last night. She is doing wonderfully, and the adoptive couple is still pinching themselves with this beautiful "drop in lap" adoption situation.
-The Lifetime Staff
A Heart to Call Home
Yesterday's adoption finalization was such a pivotal and moving day! My cousin and a couple friends were there.
Here are a few pics: one was taken after our finalization proceedings; Mason's teddy bear was from the judge and it has his name on it. The other photo is of Mason in the onesie he had under his "court outfit."
-Andrea
Sweet Baby Girl
Talia is doing great. She is such a sweet baby. She has been smiling up a storm lately! We are waiting for her to giggle while awake…she does in her sleep! We all are so in love with her.
My friends threw a baby shower for us this last weekend. It was so nice. So many friends and family have been praying for us and supporting us, and it was awesome to be able to thank them and celebrate this precious girl.
Sorry it took so long to get back to you. Life with a baby! Haha. So thankful to you and Lifetime for all you have done for us. I especially thank you for the personal attention you gave me when I was feeling frustrated or down. What a long journey to our miss Talia, but so worth it all now that she is here.
-Mark and Stephanie
Our Greatest Love of All
We are overjoyed that the baby girl that's been growing in our hearts is now home in our arms. Our daughter, Aviya is truly a blessing and we fell in love with her at first sight! Lifetime has been AMAZING and has made this process smooth as it could be. Tiffany answered our every call and email and helped calm all of our fears. We have ALREADY recommended Lifetime to several of our friends because we trust and appreciate their warmth, genuine concern and professionalism. We pray that other adoptive families and birth moms are guided and supported as we were.
"For I know the plans I have for you," declares the LORD, "plans to prosper you and not to harm you, plans to give you hope and a future"
They're Such a Blessing in Our Lives
The kids are doing excellent and are growing so much! We are all very happy and the kids are doing amazing and are in a good place. We are so proud of them and they are such a blessing in our lives! At now five and six, they continue to blow our minds with their progression. They are currently finishing the 3rd grade in home school, are taking karate (where they are getting 1st and 3rd place metals in tournaments), they sing in the county children's choir, are young leaders at our church and are loved by our entire community. We can't go anywhere without them being recognized and loved on. They are so loving, and giving and kind. We are so amazed by them. Though there were some more challenging times than others, they have persevered in ways I can only credit to God! They have both humbled us and enriched our lives in ways we can not explain in words. The latest and greatest is they are wanting us to adopt more children.
As always, thank you for all you have done for us!
Raphael and Kimberly
My Handsome Little Man
Mason is now FOUR MONTHS OLD! Here's a photo comparing him at four days old, and now at four months.
He just had his first cold. Awww…even at his "lower energy" self, he's still a cute bundle of joy.
-Andrea
Sweet Boy!
Happy New Year, hope you and the staff are well, its been a busy year. Gavin is doing well. I'm currently planning his first birthday party in February. I cant believe he is going to be one, time has really flown by. It feels like it was just yesterday when I held him to my chest for the first time, he was so tiny and now he's my sweet little touching everything and crawling everywhere little man.
He is an amazing little boy, and a joy to be around, he just loves people and everyone is drawn to him and his little personality. I've never been happier being his mom. but he does keep me on my toes. I've enclosed some photos from this past month of Gavin.
All My Best,
Natacha
Cute-N-Cuddly!
Xia Janae' is nearly 18 months now!!! Check out this group of photos of our perfectly mischievous elf!! Thanks for all your help.
Blessings,
Michael and Trish and company
What a Guy!
Hi Linda,
It's great to hear from you. Everything is going really well. Landon is growing and spreading so my joy. He is truly our blessing. Here are some photos. Thanks again for checking in. We cannot thank you and the Lifetime Family enough.
Best Regards,
Nick, Lillian, & Landon
Oh, How They Grow!
Linda,
Just wanted to say hey and send some pictures of our big guy. He is growing up too fast! Hope all is going well. I know it has been almost two years now, but we will forever be grateful for all of your help!
Thanks,
Jason & Angel
Partners in Crime
Hello,
Elyse is doing well. Dallas is so happy about is sister here are some pictures!
Ingrid & Deshon
A Day of Grace
Hello Patty and Diane,
I hope you are both doing well, I just wanted to touch base and send you some photos of Gavin being presented to our Lord in front of friends and family…He was great not a tear in sight just smiles and more smiles…I was truly a proud mom.
He had two godmothers and his godfather presenting him…I think Gavin loves being in the spotlight.
-Natacha
Our Bundle From Heaven
Hello Veronica and Lifetime staff,
Wow!!! Time is flying by. Tomorrow Matthew will be one month old. Here is just a few pics of me holding him on the day he was born and at home after a few weeks. Words can not express our gratitude, joy, and love. We are so blessed to have been chosen by a wonderful birth mother.
Eugene and Raechel
Forever and Ever
Hello Ladies,
We finally made it…this little person is all mine forever and ever…Gavin was good throughout the whole process until it was time for pictures. he had enough waiting at that point. It was a really really good day!
Thank you both and the the rest of the staff for getting us here.
Natacha and Gavin.
Summer Fun!
Hi Amy & Libby!
I just wanted to say hello and let you all know things are going well. Our birth mother came up for a week for Aiden's first birthday and to visit and tour our city in the summer.
-Gerald & Toni
Little Man!
Hello Diane & Patty,
I hope you are well, it's been a while but I wanted to touch base with you both and let you know how both Gavin and I are doing. Its been the best summer ever.
Gavin is now 4 months going on five and he has gotten so big and he is constantly laughing or cooing…the only time he ever cries is when he is hungry, tired or needs changing other than that i could not have asked for a more content baby boy. his little personality is showing more and more everyday. He is finally okay with bath time he use to hate getting into water and bath time but not anymore.
He finally is rolling himself over onto his tummy which makes me a little nervous since he flips over with such force. His appetite is amazing he can suck down a bottle in record time, I've decided to start introducing him to solid foods at five months, he is outgrowing his clothes faster then I can buy them but still pretty fashionable for a little boy of 4 months.
I know people say this all the time and I never thought I would be saying this myself but i really can't remember what it was like not to have Gavin in my life.
Much hugs to you both and everyone else at Lifetime.
-Natacha
Grown Leaps and Bounds!
Happy Easter! Since Katie knows the story now of how you wanted us to get the perfect picture of our bunnies for our adoption profile, she reminded us this year that we needed to take pictures of her and the bunny for you. She even wanted to take pictures the night before Easter, in the dark, in her pajamas!
Katie has grown by leaps and bounds this year. She has been attending Transitional Kindergarten this year (the first year of a two year Kindergarten program) and absolutely loves school. She started reading in February and has already read over 140 books. She enjoys writing, math and art too.
She enjoys swimming on the swim team and riding her bike up to 8 miles at a time. She loves our family runs/bike rides on Saturdays and competing in 5Ks with Mom and Dad.
Thank you again for caring enough about every little detail of our adoption profile that led us to the child that was meant to be ours! We pray often for you and the other Lifetime staff (and the precious birth moms, adoptive families and children that you work with every day). We will never be able to thank you enough for helping us bring together our forever family!
Love,
Tricia and Roger
Forever Family!
Linda and Deena,
God is good! We are elated to tell you that our adoption of our angels Alexis and Javon finalized via a video conference hearing yesterday. We are a forever family! We are feeling so joyful and so blessed. The kids were so excited about the final hearing that they could barely sleep the night before. They have been telling everyone that they have a forever family. Again thank you all at Lifetime for the persistence and hard work in making our dreams of parenthood come true.
Raphael, Kimberly, Alexis and Javon
Precious Jude
Just wanted to send you an update! Jude is beautiful and perfect. We can't wait for the girls to meet him! Thank you again for all you've done.
Steve & Erin
Birthday Fun!
Hi Jen,
I wanted to update our lifetime family of London. Some pics are from her birthday party and the other are from cave of the winds! Can't believe how fast this year went by!
Jeremiah & Audra
Where Does the Time Go?
I hope this email finds you and the entire Lifetime family well! I just realized it's been almost 2.5 years since I've written! We are still so very thankful to you and everyone at Lifetime for making us parents.
Avery turned 3 last week and is constantly amazing us in one way or another. She is incredibly smart and is just the funniest and most active little girl. She loves to read stories and make us laugh. We're so excited to see the person she grows into. I've attached a photo…where does the time go??
Thank you for all you do!
Vanessa
A Gift from God
Elijah Marley is a joy every day….I love him more than words can express!
He is a gift from GOD! Elijah is almost 10 months old…thanks to his birth mom (we love her) and Lifetime!
-MaRay
Chosen Child
Dear Lifetime Family,
We still can't believe how PERFECT our match was. After two reclaims (one with another agency), we questioned God's path for us. But when Jace was placed in our arms, we knew immediately that God had chosen THIS child for us.
We could never have imagined how much love could shine from the eyes of a small child. When we look at Jace, we are moved by his simple joy and peacefulness. His smile touches all those around him. He truly is a gift from God!
Our family continues to pray for all waiting Lifetime Families!
-Lamont and Valerie
The Love of Our Life
To all the Lifetime staff that was patient and reassuring, we say thank you.
Our adoption experience with Lifetime was very positive and we would recommend them to other families seeking adoption. We now have the love of our life, baby Jordan. He is truly a blessing and each day is an adventure. He is growing so fast and we are enjoying every moment. We are so thankful to God for allowing us to love and care for him. We not only fell in love with baby Jordan, but when we met our birthmother, it felt as if we had known her for years. We are thankful for her strength and commitment to this process. Our daily scripture is "every good and every perfect gift comes from above…"
We have truly been blessed!
David & Bridget
Graduation Day
It has been way too long! Charles is all grown up! He just graduated from pre-K and is looking forward to going to kindergarten. He is counting to 100, spelling his name and he just recently accomplished tying his shoes!
We pray you all are well and please continue to use us as a reference from prospective families, although it's been years we still sing your praises and we are still thankful for the hard work you all did making us a forever family!
Thank Heaven for Our Little Boy
Hi Jen,
We will always be grateful for what you and the Lifetime family has done for us. Our experience was emotional, since we had two birth mothers to change their mind at the hospital. However, it was so worth it. Mason is an AMAZING little boy and he just turned three. He also has a wonderful birth mother. Overall, we had a good experience. We recommend Lifetime to any family that has an interest in adopting!
Have A Blessed Day!
-Gerald and Yolanda
Truly Blessed
Hi ladies at Lifetime,
It's been 6 weeks since I've adopted my beautiful baby girl, Maya. I must admit, I've never been so exhausted and overjoyed at the same time! Maya was a premie (born at 4 pounds, 4 ounces) and has grown to 6 pounds, nine ounces at her 5-week doctor's visit.
To the waiting families: I want you to know that I continuously pray for all of you during this anxious journey. I was concerned being a single woman, but working with Lifetime and the birthparents was a blessing in and of itself. Lifetime staff was always responsive and compassionate with my many questions. Maya's birthmom and I immediately clicked and we communicate via text and photos.
I wanted to share with waiting families to pray without ceasing! Maya was born almost 11 months after I signed with Lifetime and it was truly God's timing!
With Love,
Traci
So Very Thankful
Hi Diane,
Curtis is such a blessing and joy. He is so sweet and still very affectionate. I am pretty sure he is the smartest toddler around! Thank you, to all of you, for what you have done, not just for our family but for all the families you work with! By the way, Curtis is a whopping 30 pounds and is only 20 months! Here is a recent picture of him for you.
God bless,
Chad and Mandy
Bouncing Baby Boy
My blessing Elijah is now four months old!
I am so thankful for the opportunity to be his mom…thank you to Lifetime for all of your help and support.
Elijah is a happy, wonderful, bouncing baby boy! His birth mom and I communicate often through text messages and pictures. Every day is a joy as I watch him grow. I love being his mom!
-MaRay
We Couldn't Be Happier!
Hello Heidi and the Lifetime staff,
When we signed up for Lifetime, I thought that we would have to wait for at least one year before getting matched up with a birthmother. I also thought that it was going to be a long road. You and the Lifetime staff have made it so easy. You all have been very helpful along the way. We were nervous wrecks when we were matched up with Jerold's birthmother, but when we spoke on the phone we clicked right away. We spoke like we old friends. The whole time, I was afraid that she would change her mind and we would have to start all over again. After he was born and I held him for the first time, I fell in love with him. We couldn't be happier! He is getting so big, so fast. It was pleasure working with Lifetime, and if I was able to do it again, I would definitely come back to you. Thank you for everything!
Sincerely,
Demetrius and Janice
Our Boy, Our Joy
Hi Jen,
Here's a picture of Jack at his 3rd birthday party. Our experience with Lifetime could not have gone better. We started our adoption process in November, matched in March and had our son home with us in April. Our attorney was excellent and we finalized our adoption in September. As you know it does not get much smoother or faster than that! Our little boy Jack is amazing. He is happy, funny, affectionate, almost potty-trained and most of all loved by many.
– Dave & Telita
Lifetime, Through a Family's Eyes
After waiting two years with another agency, Darren and Tammi were able to adopt a baby girl in just two months with Lifetime!
Picture-Perfect Adoption
Hi Jen,
I love to tell my adoption story! I actually had the picture-perfect adoption experience. I am single and when I decided to adopt I had several doors shut but once I called Lifetime, it all fell into place and eight months after I signed my contract my son Cooper was born. It all happened much quicker than expected and I was in the delivery room and cut the cord. I actually babysat his two siblings for a couple hours until a family member could come to the hospital to pick them up. We had a couple of bumps when the birth mom started to change her mind but they really didn't last long and went pretty quick.
I know that God was in control of our adoption and I appreciated that my Lifetime counselors were Christian. I also appreciated how Lifetime helped me to find someone here to do my home study and helped me with the attorneys. I consider the Lifetime staff my family, even though I have never met any of you!
Thank you,
Stacey
Growing Like a Weed
Hi Jen,
Sydney is growing like a weed and just attended kindergarten round up. It's so hard to believe she is five years old. As you can tell she is a very happy and energetic girl!
– Polly and Shane
Ready, Set, Grow!
Hi Veronica,
We hope you had a wonderful Easter! Here's a recent picture of Lena. She has gotten so big and wonderful she will be two in June and already knows her ABC's and is potty trained — Yay!
God Bless,
Lewis & Loreen
She Lights Up Our Lives!
Dear Libby,
Happy Easter! We always think of you this time of year and wanted to send you our annual photos of Katie with the bunny! These photos are of Katie and Hershey this year. Taking them always reminds us of you asking us to take the "perfect" photo of our bunnies for our profile. We appreciate the attention to details that you and the others at Lifetime put into our adoption which led us to a perfect match! Thank you again for everything! Katie is now a very active three year old who lights up our lives!
Love,
Roger and Tricia
Our Boy, Our Joy
Dear Michelle, Kim, and Tonya,
Thank you guys for your wonderful support! Here is a picture of our beautiful boy Adam at one week.
We are now parents of a beautiful baby boy and our hearts could not be happier!
With much appreciation and gratitude for everyone at Lifetime!
-Alfred and Landria
Our Dream Came True
Hello Lifetime Family,
We're over-the-moon happy with the adoption of our daughter Sarah Elizabeth! We received a drop in the lap call from Diane while getting ready for church. A few hours later we flew across the country to meet our daughter and birth mom. We met and simply fell in love with Sarah that night. Sarah is healthy, happy and growing so much each day. We give God the glory, for it was His Hands that orchestrated this divine match.
We give thanks to Jen and Joan for supporting us during the craziness of traveling, the ICPC process and until we arrived safely home. Lifetime, we cannot thank you enough for making our dream come true to become parents and completing our family; each one of you has a special place in our hearts. Words simply cannot express our gratitude. Like Libby and adoptive families always say in Lifetime's adoption webinars, when we look back, every wait, decision and event was clearly planned by God, Who is ever faithful. Lifetime, you are and will always be part of our family!
Warmly,
Glen and Wendy
Groundhog Greetings
Dear Veronica,
Happy Groundhog Day! We think of you often, but especially on Groundhog Day because we know you love the holiday so much! Here's a picture of Katie showing you some of her favorite pages out of our Groundhog Day books. She had fun celebrating at pre-school with her friends. We pray for everyone at Lifetime often! I have enjoyed sharing our story in the Lifetime webinar, answering questions and providing adoption support for new Lifetime families who are just beginning their journey!
Love,
Tricia and Roger
Forever Treasured
Hi Veronica and Our Lifetime Family!
Our adoption finalization court hearing was last week! We are now an official forever family! These past six months have passed so quickly and Kallie Grace is growing so fast. She is amazing and we are so in awe of what God did for us! It's exciting having two birthdays to celebrate with Kallie and our family here is so grateful as well that she is ours forever. Thank you for making the adoption process seem so easy and just always being there for us. We will never forget you. We hope to start the adoption process for our second Lifetime baby soon so that Kallie can have a little (or big) brother.
Take care,
Della and Tony
Dave and Deb Adopted a Baby Girl!
Congratulations from the staff of Lifetime Adoption!
Cassius and Rhonda Adopted a Baby Girl!
Here is Cassidy with her proud big brother Tre.
Congratulations from the staff of Lifetime Adoption!
Look at Me! I'm Three!
Hi Veronica,
Just wanted to touch base with you to let you know how we are doing. It has been a wonderful experience being a parent to our smart, beautiful, funny daughter, Nadia. She has brought us so much joy. She keeps us busy, but that's a good thing. We're grateful to have the opportunity to love, protect and teach her about life. We wouldn't change these times for anything.
This picture is of Nadia at her 3rd birthday party. Thank you to Lifetime Adoption for helping us and hopefully we can do it one more time. Take care and hope everyone has a great new year!
-Stacey & Jackie
I'm a Mommy!
Hi Veronica,
I am so happy to have newly adopted through Lifetime! I signed on with Lifetime in August and became a mother the first of January. It was four months and some days.
I am a single African American woman and was assured that 'THE PERFECT MATCH" was out there. Boy, was it ever…Elijah's birth mom is amazing and I look forward to a lifelong relationship with her. I had moments of will this happen and many prayerful days… I AM a Mommy!
-MaRay
MaRay Adopted a Baby Boy!
Elijah was born weighing eight pounds, 14 ounces.
Congratulations from the staff of Lifetime Adoption!
Our Little Princess
Hello Veronica!
We wanted to send you a quick note and a recent photo of Avery. She is doing so well! She started walking before 10 months old and is so full of energy and laughs. We had such a wonderful time celebrating her first Christmas. I still pinch myself sometimes to make sure I'm not dreaming. I can't believe she'll be one next week…where does the time go?
We are getting together with her birthmother and maternal grandmother next month to catch up and celebrate her birthday. I'll send photos of the celebration.
Happy New Year and thank you to all the Lifetime Staff for what you do for so many!
-Mark & Vanessa
My Dream Came True
Hello Lifetime Family,
I'm happy to inform you that Jacob's final adoption hearing was last week. The past few months have been the most difficult, yet most rewarding time in my life. Thanks so much for your encouragement and support throughout this entire process! I wanted to share my adoption story with waiting adoptive families, in hopes that it provides encouragment to keep the faith and never give up on their dream of having a child!
Kind Regards,
Karen
Two Lifetime Blessings
Dear Diane and Lifetime staff,
What a way to end the year! We were at the very end of our contract and had pretty much given up hope of adding another child to our family. I was packing the crib up and getting ready to deliver it to my co-worker who is having a baby soon. Then came THE CALL.
At first it was hard to believe and we kept expecting our birth mother to change her mind. But within a few short weeks we were headed out of town on the way to meet our son, Julian! He is a healthy, happy, easy baby and the apple of his brother Isaac's eye. We have a hard time getting Isaac to go to bed unless Julian is asleep too! When Julian wakes in the night, Isaac has to get up to kiss his "baby brudder". What a beautiful gift, a little brother for our first Lifetime baby!
We can't thank you all enough for the support you gave us during this time. Our birth mother was glad to always have someone to talk to and Diane was available for us every step of the way. Sometimes it still doesn't seem real that we have been blessed with two perfect little ones! I know it's been said a thousand times, but it all happens in God's time, not ours. Our first adoption was super fast, our second took the whole two years! God gives us the gifts we need, when the time is right.
For prospective families, don't lose hope. It can happen, it can happen fast, it can happen at the last minute.
For birth parents, thank you. You have no idea the joy you bring to families built through adoption. There are no words to describe how we felt as we sat in the hospital with Julian's birth mother, picking out names together. The fact that she was so loving and committed to creating a family with us was absolutely amazing. We look forward to keeping in touch and sharing our son's milestones!
We are thankful for the staff at Lifetime and for all the others in our lives who have supported us in our family's journey!
God bless!
Lyn and Michael
Look at Me! I'm Three!
Dear Veronica and the Lifetime Staff,
We wanted to send a note as we celebrate Katie's 3rd birthday to say thank you for the part you all played in creating our forever family! We have been remembering the events of that day 3 years ago when we got "the call" and all of the emotions that went along with them! We can't imagine life without her now!
Katie loves life as much as we love her! She loves playing with her friends who come to our house for pre-school each day. We are thrilled that four of my other students are adopted also, including one other Lifetime baby! She recently earned her t-shirt at swim lessons for swimming across the pool on her own. She has a wonderful imagination, a great sense of humor and loves to tease people now. We have enjoyed many trips to Disney this year and Katie's new goal is to grow to be 40 inches so she can ride on Space Mountain! Katie loves Sunday School and will be singing and performing in our upcoming Christmas program at church with the other children and with daddy.
We are thankful every day for all of you and for Katie's birthmom for making it possible for us to be Katie's parents. We pray for each of you, as well as the other adoptive parents, Lifetime babies and birthmoms often.
Love,
Tricia and Roger
Forever Ours
Dear Lifetime Family,
We are so happy to share that Georgia's adoption is now final! Thank you so much for your prayers, expertise and support as well as the fantastic attorney reference. It's still hard to believe the entire process was only nine months from the time we signed up to Georgia being forever ours. You have blessed our family in more ways than you'll ever know! Here's a picture of our beautiful baby girl.
Best always,
Brent and Latonia
Bouncing Baby Boy
Hi Diane,
Our bouncing baby boy was born at 4:06 yesterday! He weighed six pounds, four ounces and measured 20 1/4 inches long. He's healthy and eating well. We should all go home tomorrow. His birth mother seems to be doing well and we are spending some good time together. She's a sweet girl.
Here's a picture of Lyn and proud big brother Isaac with our little blessing…more to come as things progress!
-Lyn and Michael
The Joy of Having a Boy
Hello Kristine and Everyone at Lifetime Adoption!
I'm enjoying motherhood and I've never been so tired and stressed in my life. But, every moment of it is beautiful. My little boy Miles is just an amazing baby! At eighteen months we have started to count and say the ABC's; amazing he's growing so fast. It's like I just brought him home yesterday. Documenting every step or adventure he makes. I would love one day to adopt him a baby sister, I'll just keep praying and allow the Good Lord to make that decision for me. If He has that for me and Miles in the future then we will be using the wonderful services of Lifetime to find our girl!
Love,
Monica
Our Beautiful Gift of Life
Hi Heidi!
I hope all is well with you. I really don't feel like the words below really express how thankful we are for Bentley. Maybe the tears that I get in my eyes every time I look at him can say more than words. It really is a dream come true, truly. Everything about him proves to us that he was meant to be with us.
We weren't sure what was going to end up happening when we signed on with Lifetime. We hoped and prayed for a child and we knew that God would bless us with what was right for our family. We have had things fall through in the past and we weren't sure what to expect when we got the call that we were matched. We knew it was really happening when it was time to get on a plane and go meet this new life.
Well, he's cuddled up in me right now. He's home and we are one happy family. We couldn't be more thankful for this beautiful gift of life. For anyone that is trying to adopt, please don't give up on Him or on hope because miracles do happen…..it's all in God's timing!
Bentley is five weeks old now. Every day with him brings new changes. He has started interacting with us, which includes smiling! He is strong. He can hold up his head so well and is getting to be a pro at tummy time. He is so alert when he is awake and he is the best snuggler. He is a beautiful and healthy baby boy. Every day with him is a blessing.
We are thankful to Lifetime for making this a very pleasant experience. Everyone we worked with has been so kind and patient. Our son also has one amazing birthmother. We are forever grateful. We are so happy and so in love.
God bless you!
-Danny and Shannon
Precious & Precocious
Good afternoon, Veronica!
Jabari will be 11 months on Thursday, and his adoption was final in May! He is walking now and has been since about one week prior to his 10th month! He's eager to explore new things and loves his home…as you can probably see by this photo! Looks like we baby-proofed the cabinets just in time (LOL).
Blessings,
Sam & Sabrina
Enjoy Every Moment
Hello Lifetime!
Here is a recent picture of our sweet Bethany. She is 16 months old now, and she continues to fill our lives with joy. She's a busy, happy toddler who loves her baby dolls and playing outside.
She's talking and pretending and loves ring-around-the-rosy. She likes to play little jokes, and then she laughs and laughs.
We enjoy every moment of every day spent with her!
Love,
Matt and Teri Jo
Baba & Candace Adopted a Baby Girl!
Congratulations from your friends at Lifetime!
Simply Wonderful
Hi Amie,
Lena has grown up so much this past year! Here is a recent picture of "Ms. One–derful". We look forward to expanding our family further with another Lifetime adoption!
-Lewis & Loreen
Nicholas is Getting so Big
Hello to our Coordinator,
Greetings! Nicholas is doing wonderful. He is a healthy, and may I say very energetic, little boy. He is pulling up and trying to walk. So every spare moment I have is keeping him out of things. He's off of the height and weight charts and he has 6 teeth! That's just how big he has gotten. Thanks for all of your help and we love you guys very much. From our family to yours…God bless.
Nicholas, Teneenisha & Nicholas
Lucas is Such a Joy
Hello Everyone,
Lucas is doing great!!! He is such a joy to have and is a very happy baby. He loves to smile and have others hold him. He's popular with the ladies! Everything is going great with the adoption proceedings. Lucas's final adoption should take place this summer. We are very grateful that you matched Lucas with us. Thank you!!!
Love,
Mike & Janice
Eva was Heaven Sent
Dear Lifetime Family,
Thank you so much for all you did to bring the love of my life to me, my daughter Eva. I know it's been said many of times, but it's true, I know God sent the only child that was meant for my family and me. Eva is the joy of my life and also the joy of all my family and friends. Just look at that face, she is truly Heavenly sent!!!!
God Bless Everyone,
Anita & Eva
Our Smiling Charlie
Dear Lifetime,
We are writing to say thank you for making our dreams come true! Charlie will be six months old on Sunday and, as you can see, is the happiest baby in the world. Charlie is loved by everyone he meets especially his big brother, grandmother, and aunt and uncle. He is a flirt and wakes up smiling every day! While our journey was definitely full of surprises and a few bumps, the reward is the most amazing gift in the world. We decided to pursue adoption in December, put our profile on the website in March, and were matched in three days. Charlie was born a week later. Our birthmother is a wonderful woman and we were lucky enough to spend time with her and her family during our three-week stay in her hometown. The staff at Lifetime held our hands and calmed us down as we went from being new Prospective Adoptive Parents…to Expectant Parents in three days…and then Mommy and Daddy ten days after that.
Thank you for all of your help!
Curt, Margey, Parker, and Charlie
Thank You Lifetime!
Dear Lifetime,
I would like to thank Lifetime for helping me start my family. I have been blessed with a beautiful baby girl. She has been an absolute joy to my life and my families life as well.
Thank you for all your help, the calls and all the hard work and support in helping my dream become a reality. To my coordinator: I thank you for being so nice. Your calls, concerns, and keeping me uplifted during my wait. Thanks so much for everything.
Yours Truly,
Crystal
He is Getting So Big!
Jamal will be 3 months old tomorrow already. He is now 13lbs 7oz. He has recently discovered the wonder of his sister. He loves to watch her and will smile really big when she talks to him and "pets" him.
He also has discovered his voice; even to the point where he startles himself.
Thank you for letting us share,
Garrick & Brenda
What a Wonderful Experience!
Dear Lifetime Family,
Can I tell you how in love I am? Christopher is the most beautiful baby I have ever seen in my life!!! He is my dream come true, and to you I owe a debt of gratitude.
Christopher Alexander was born last October weighing eight pounds and two ounces. Unfortunately, I missed his birth, but shortly after he turned 24 hours old, my mother and I were able to hold our beautiful bundle we call "our boy" and spent the day just loving him and trying to tell him everything about everyone in the family so he would be prepared when he got to meet them! We were blessed to be able to meet not only his birthmother (who is just an absolute doll), but also his birth grandmother. Both are very loving, wonderful and strong women. They brought a family picture for us so that Christopher can see his birthfamily – grandparents, aunts, uncles, cousins and siblings included. I keep it in a frame in his room so he can see himself how much he has his birthmother's beautiful eyes and big smile.
This adoption journey has truly been the most wonderful experience of my life, even with having two birthmothers change their minds. I KNOW that I have the child that I was meant to have. Please, PLEASE, other adoptive families – NEVER give up!!! Your child is waiting for you! (And it may not be the child you think). Trust me when I say that when he (or she) comes into your lives, you will know instantly that this is your child, and it was truly meant to be.
Christopher turned seven months the day before Mother's Day and is crawling and trying to stand on his own and take steps already! Every time I look into his beautiful dark eyes, I know I have been blessed.
Thank you so very much Lifetime, especially the coordinators who spent MANY hours on the phone calming, comforting and encouraging me, for bringing this beautiful boy and his wonderful birth family into my life.
Love,
Alicia
Update from Curt & Tanica!
Here is our beautiful daughter Olyvia, taken in March of this year with her little brother Samuel-Philip. She will be two in June and we are so very blessed that she is a part of our lives. We can't say enough good things about the experience we had with Lifetime: your kindness, compassion, and sensitivity greatly eased a stressful but exciting time in our lives. Anytime I receive a request for a reference, I give an excellent one! I hope everything is going well with you guys. If God blesses us, we hope to use you all again at some point in the future. Thank you so much for all you did for us.
Love,
Curt & Tanica
Our Lives are Filled With Joy!
To Our Coordinator and Lifetime Family,
Myles is now five months and has brought us so much joy, we are enjoying every moment with our adorable baby boy. Thank you for connecting us with a wonderful birthmother and family. We will never forget how dedicated and passionate you were about helping us find the perfect match.
God Bless,
Allex, Marcy, and Myles
Thank You!
We are so happy. Our blessings continue to grow. We look forward to the adoption being final!
Sincerely,
David, Missy, and Nicholas
She Is Our Joy!
The Lord strengthened us through our adoption process and we are so grateful. We have an absolutely beautiful little girl. Trinity Aisha Nicole was born weighing in at 6lbs exactly. SHE IS OUR JOY!!!!
Thank you,
Alford & Aisha
Adoption in 19 days!
We're all doing great! We can't believe this all happened so quickly. Our birthmother will always have a special place in our hearts.
Thank you,
Vincent & Adrienne
Twins!
Twins!
To the staff at Lifetime, words could never fully express our sincere gratitude towards your staff. We are so blessed to have Jonathon and Jasmine. Thank you all so very much.
Sincerely,
David and Patricia
~ A Big Thank You!
This is a BIG THANK YOU for helping to make the connection for our family being blessed with our babies one year ago Sept 23. We are truly blessed to have them in our lives. I pray that your organization will continue to be blessed so that you can bless others.
Brenda (Family member of Patricia and David)
Our Boys are Wonderful!
Solomon and Issac are doing wonderfully, and are such a constant joy to us (Solomon is in red, Isaac is snoozing). Thank you for everything you've done in helping us find our family and connect with some special birth mothers. You do such important work.
With Love,
Miriam, David, Solomon & Isaac
You've Made All The Difference!
Thank you to everyone at Lifetime. Jordyn is such a blessing! Thank you to our coordinator for your on-going support. To others that have helped, thank you for the constant contact in those crucial hours after Jordyn's birth. It made all the difference. God bless you all.
Love,
Randy, Brenda, Jeremy, and sweet Jordyn
One Big Happy Family!
Thanks so much for helping to bring baby Camille into our lives. She is truly a blessing. Also, thanks for the beautiful teddy bear keepsake. Camille is being loved by us, her grandparents, aunts, uncles, and many cousins…
Thanks Again,
Chris and Valerie
We Are So Thankful!
I just wanted to let you know that as of October 9th, Samuel is an official member of our family. We want to thank you and the others at Lifetime for making our adoption experience so enjoyable. Samuel is very healthy and developing right on target.
Love,
Kathy and Greg
Adoption In Only 22 Days!
First of all, all praises to God. We have been blessed with a beautiful baby boy, Noah. We were in the delivery room at the time of birth and had an opportunity to develop a meaningful relationship with the birthmother. Next, thank you Lifetime Adoptions…you helped us connect with an amazing young woman and start our family. Finally, thank you to our birthmother, you are a blessing.
God does answer prayers!!!
Ryan and Tanisha
We Are The Luckiest People In the World!
Your hard work and support made our dreams come true! We are finally a Mommy & Daddy! Our son, Travis, is such a blessing and a joy. We feel like the luckiest people in the world. Thank you from the bottom of our hearts!
Sincerely,
Chuck & Kelly
Miles of Smiles
Hi Deena!!!
Happy New Year to you! It's nice to hear from you. Everything is going well. We have been quite busy! We had a great summer with trips to see the grandparents (Can we say getting spoiled!), visiting amusement/waterparks and museums for the first time and their favorite, dressing up like cows for Chick-fil-A Cow day. Alexis and Javon are doing excellent! They have transitioned quite well. They are such AMAZING children! We are so amazed each day of their progress. They soak up education like a sponge! They LOVE schoolwork! Yes! Can you believe it? If they could have learning time all day, they would. They have developed great friendships with the kids in our new neighborhood, church and in our town. They are extremely personable and love people. We live in a close-knit community where "everyone knows everyone." They have made such an impression with everyone here. We can't go anywhere without everyone asking for them! They get SO much attention! It doesn't matter if we go to the grocery store or shopping or to the post office, everyone knows of Alexis and Javon as the sweetest kids they have ever met. If I go anywhere without them, people are literally disappointed. It's so funny.
It was such a pleasure to experience all the holidays with them. You can imagine all the excitement in the house with them learning about Halloween/Harvest Day, Thanksgiving and Christmas! We also continue to have a great relationship with their birthmother and stay in contact with her often. She is doing great, working so hard to start achieving her future goals.
Attached are some pictures of the kids! Thank you and your office for all the hard work in bringing Alexis and Javon into our lives! We cannot thank you enough! They are truly such blessings and amazing children! We all are so full of joy! Thanks Deena!!!!!!!
With Much Gratitude and Thanks,
Raphael and Kim
Very Merry
Very Blessed with Avery & Jackson! Merry Christmas & Happy New Year!
-Mike & Heather
It's Bunny Time!
Dear Libby,
Happy Easter! We especially think of you during this special time of year. It was really fun to share the story with Katie this year about how you wanted us to get a picture of our 3 bunnies for our adoption profile and how we had to chase bunnies for quite a while to make that happen! She is still laughing and talking about it. Thank you for caring about each little detail of our adoption which led us to the Forever Family God had for us. Katie is a true blessing from above! We also celebrated Katie's first spiritual birthday on Easter as she accepted Christ as her savior last Easter.
Katie is a very active, vibrant little girl now. She loves to run long distances, swim and dance. She loves to sing and has recently memorized a lot of songs from Disney movies. She has a vivid imagination and loves playing with her pre-school friends. We have traveled a lot as a family this year, including a mother-daughter road trip over Spring Break to visit friends and some of her cousins (three of whom are adopted also). Katie loves to travel and explore new places!
Thank you, again, for everything you and the others at Lifetime have done for our family. We can never thank you enough for the part you each played in creating our forever family. Katie is an absolute Joy and we cannot imagine life without her!
Love,
Tricia and Roger
Tony & Lesley Adopted a Baby Girl!
Congratulations from the staff of Lifetime Adoption!
Introducing Our Newest Lifetime "Angel"
Hugs to our Leading Ladies at Lifetime…Jessica, Diane, Amy!
It has been six weeks since baby Xia and I arrived home to an eagerly awaiting Daddy and her three siblings! Xia is our biggest baby yet weighing in at nearly 10 pounds at birth, and currently around 15 pounds! She is the queen of toothless grins and has a very 'big voice' (which only aids her in getting tons of attention from the rest of us) 🙂
It was a precarious two weeks before we were cleared to come home, but Lifetime was once again professional and consistently available every time we needed them. Jessica, you did a great job of keeping things rolling and helping us jump all the necessary hoops both states required. Your experience in adoption inspires me, and was incredibly helpful as we navigated this situation.Diane, your straightforward, no nonsense approach has been a godsend! Amy, getting to know you (prior to our call about Xia) has been a delight, and we loved working with you!
As we now move towards finalization, we look forward to keeping you in our prayers as you step up to the plate every day, helping scores of other families navigate the intricate details of adoption…way to go ladies, we continue to send hopeful couples your way as we spread the word about adoption and building families, one baby at a time!
Thank you Lifetime, for finishing what you start!
Love,
Michael, Trish, Noah, Kohl, Holli-Yahna, and baby Xia
Our Delightful Daughter
Hello Lifetime!
Here is a recent picture of our Bethany. She is three years old now and continues to grow and change every day. She used to often say, "Would you help me?" Now she says, "I can help me by myself!" We enjoy her so much and thank God for the delight she brings to our lives.
Love,
Matt and Teri Jo
Boy Wonder
Hi Veronica,
Can't believe a year has past with our sweet Miles! We just celebrated his first birthday at a local farm and a great time was had by all. It has been full of joy and wonder as we watch our little guy grow and learn. He already says about seven or eight words, understands so many more, dances to songs, and is taking quite a few steps. As much as we cannot wait to see what the Lord has in store for him, we are relishing in these awesome moments.
Lots of prayers for all the birth and adoptive families!
-Arlene and Joel
The Joy of Our Lives
Hi Diane,
It's been almost three years since we last spoke, so we wanted to send you a recent picture of our Kylie! She's now three years old, and is so loving. She's the joy of our lives. Thank you so much!
Love,
Byron and Donna
Our Adoption Dream Came True!
Hi Veronica,
We wanted to drop you a line to thank you for all you did to facilitate the placement of Olivia Grace with us! She is an absolute dream and we feel so blessed to have her. Things were a little hectic after we brought her home with everyone adjusting to a new routine and a new baby in the house, but we are all moving along now like she has been with us forever. In fact, we can't ever imagine how we managed without her. She has enriched our lives beyond our wildest dreams!
Thank you!
Terry and Danette
Delightful Duo
Here's a sweet adoption update we received from adoptive couple Joseph and Brittiny, who adopted boy/girl twins:
"We finalized a couple of months ago. Everything is going really well, Joseph and Bryannah are great.
They will be eight months soon and they've gotten so big. Everything is going really great!"
Bouncing Baby Girl
Hi Libby,
So great to hear from you! Life is grand. Aspen is the most precious thing in my life after Jesus Christ, my Lord and Savior. She is a happy, playful, joyful baby — who is now WALKING!
She's also got a very strong personality and she's not at all shy — she'll wabble up to perfect strangers and start playing with them. (Definitely something I'll have to temper once she starts talking…LOL) And everyone who meets her falls in love…I have people walk up to me in grocery stores, malls, anywhere and comment on some aspect of who she is.
God is so awesome. I have had the most amazing experience with this adoption and thanks to Him have been able to use our story as a testimony for others who are seeking adoption. I share about the process and what to expect, which is often still a mystery to a lot of folks. And when they see me, a single executive, who has adopted I think their optimism rises.
Lifetime was absolutely a blessing in my life — when people actually do hear the entire story they're amazed (but again, I am picky about who I tell it to because there are people who have waited for years and I want to be sensitive to their yearning).
Thanks and blessings,
Monica
African American Adoption Online, in conjunction with Lifetime Adoption has been connecting adoptive couples and birth parents through open adoption since 1986. Our mission has always been to create a bond through open adoption that benefits everyone, especially the child.
If you're thinking about adopting a child into your home, first of all thank you! Without generous and selfless families like yours, so many children would be without a loving and stable home. Each of the stories you've read above will give you more information and more encouragement. The stories from these adoptive couples show how important keeping faith can be. If you having been searching the internet for "black babies for adoption", remember that your call to adoption is a gift to a child, regardless of ethnicity. There is nothing more important to a child's future than feeling loved.
You can start your open adoption journey today by calling us at 727-493-0933 or using our "Text Us" button in the lower right-hand corner of your screen. Or you can fill out our FREE application. Our coordinators are ready to help you in any way that they can. Once you are a LIfetime Adoption family, you will be given all of the information and tools you'll need to navigate a successful open adoption.